Copyright © 2016 Leinster Regiment Ireland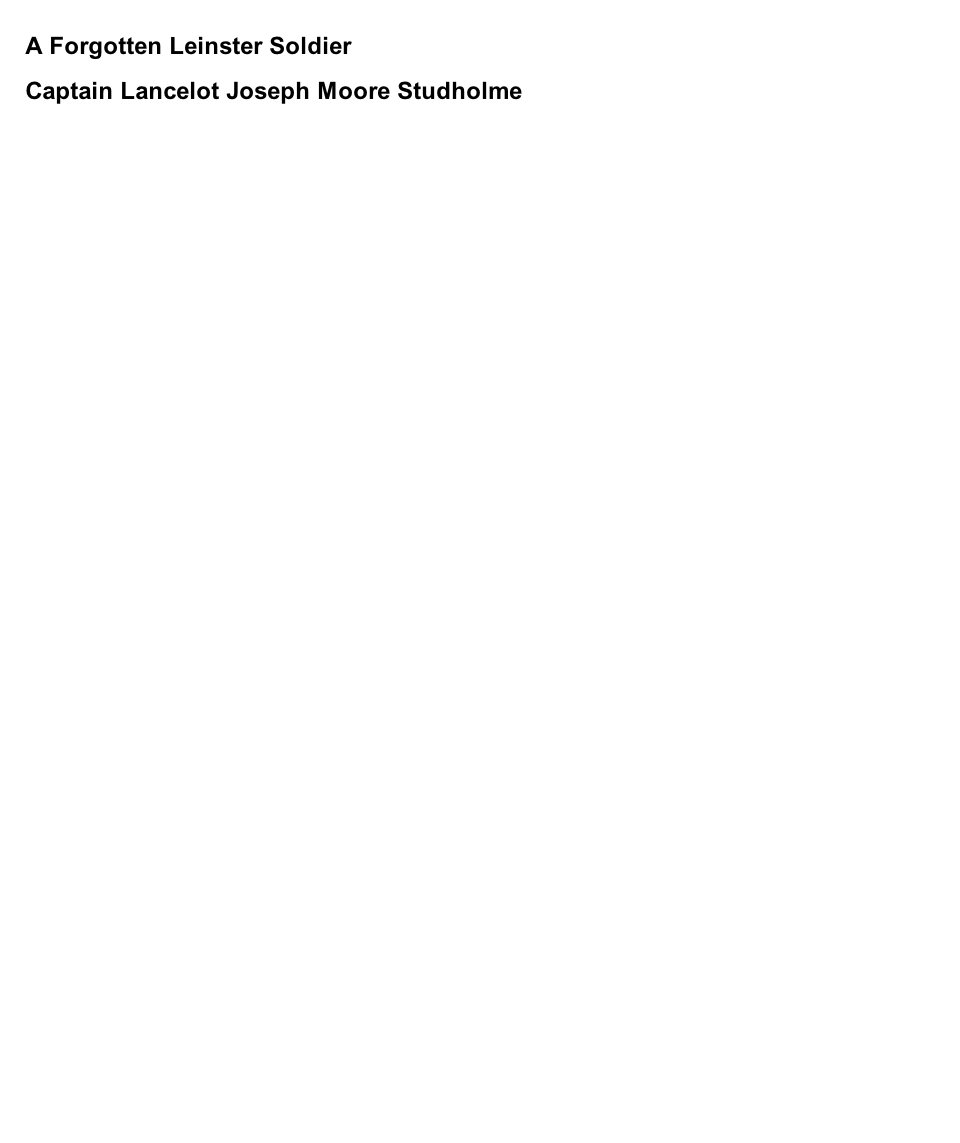 With the 100th Anniversary of the Battle of the Somme there were many major commemorations to mark this centenary however in a rainy wind-swept field at Ballyeighan on the 9 September 2016, there was a very small solemn ceremony held to mark the centenary of the death of Captain Lancelot Joseph Moore Studholme of the 7th (Service Battalion) Leinster Regiment. The event was organised by Stephen Callaghan, the PRO of Leinster Regiment Ireland and there were a number of people in attendance despite the poor weather. Archdeacon Wayne Carney said a few words, and this was followed by the laying of wreaths.
Lancelot Studholme was born in Birr in 1884 and was the only son of Joseph and Mary Studholme. He was appointed Justice of the Peace upon his father's death. Lancelot was a well-educated man and had a passionate interest in gardening. He joined the Leinster Regiment at the outbreak of war in August 1914, but chose to enlist as a private.
He was promoted to the rank of Captain in July 1916. At the Somme during the Battle of Ginchy on 9th September 1916 he led his Company over open ground under very heavy fire. His batman Thomas Harte was hit by a bullet. Thomas was from Crinkill and had worked on Lancelot's estate at Ballyeighan. It was whilst attempting to rescue his friend and neighbour that Lancelot ended up losing his own life.
Lancelot was recommended for the Military Cross for this incredible act of bravery. He was well regarded throughout the Leinsters and his loss was deeply felt. A private of the regiment commented that he was "a grand officer, a brave man, we cried when we buried him".
A large impressive oak cross was erected behind Ballyeighan house after his death which is where the ceremony was appropriately held, as he has no known grave. Lancelot's name is commemorated in perpetuity on the Theipval Memorial to the Missing of the Somme.