The Evans brothers, John & Sam, were from Monkton Row in Wicklow Town. At the outbreak of the war John was part of the reserve and was mobilised with the 2nd battalion and arrived in France on September 09 1914. He remained with the battalion through the early engagements with the Germans until he was badly wounded in 1917. After his recuperation from his head wound he returned to the front after being transferred to the Labour Corps where he served for the remainder of the war.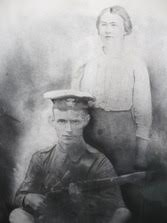 Sam was serving in India with the Royal Dublin Fusiliers in August 1914. He transferred to the 1st battalion of the Leinsters upon his return from India in November. This was in the hope that he might serve with his brother however that was sadly not to be. He died of wounds on May 4th 1915 as the BEF retreated to the GHQ line during a phase of the 2nd battle of Ypres.
In the following weeks the 2 battalions were to serve in the same sector before the 1st joined the 10th division in Egypt later that year. The Wicklow Newsletter published a letter from John enquiring of Sam just a week before he was killed. See attached.
Sam has no known grave and is remembered on panel 44 of the Menin Gate Memorial to the missing along with so many of his comrades.
John and Sam Evans were the Great Grand Uncles of John Goodman