Copyright © 2016 Leinster Regiment Ireland

Edward Mullins enlisted in the British Army in Drogheda, Co. Louth in early 1914 and he became Private No. 9630 in the 2/Leinsters. He was from High Street in Dublin. On the 9th Sept 1914 the battalion landed at St. Nazaire and spent the duration of the war serving in France and Flanders in Belgium. They were part of the 17th Brigade in the 6th Division. In October 1915, they were transferred with the Brigade to the 24th Division.
In June 1917 they played a large part in the battle of Messines and it was here that Edward lost his life. The Messines Ridge was a narrow feature to the east of Ypres,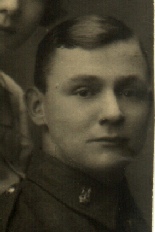 which dominated the surrounding plain. It had been in German hands since 1914 and it gave them a panoramic view of the British lines. Tunnellers dug mines from behind the British lines to reach the strong points under the enemy lines. There were 19 of these and they were filled with 500 tons of explosives. The 2/Leinsters were positioned to north of Messines at the village of St. Eloi with the rest of the 24th Division.
On the morning of the 7th June, the artillery opened fire, providing a barrage of exploding shell behind which the infantry could advance. Simultaneously, the mines were detonated. These exploded, shattering the earth above and allowing for a virtually flawless capture. All of this had been preceded by one of the heaviest concentrations of artillery fire during the war. Many lives were lost and Edward was one of these. His body, like so many others, was never found. His name is one of thousands listed on the Menin Gate Memorial at Ypres, or Ieper as it is called today.